I think we can all agree that birds on stuff has become quite the trend.  Birds are on everything – dishes, bedding, accessories.  The top searched item on my blog are my Bird Silhouette plates.  And I saw this video a while ago when Melissa @ The Inspired Room posted it and if you haven't seen it – you will thoroughly enjoy it. 
Now my question was this - are birds on stuff still in or on the way out?  Based on the evidence that I am finding out there still for sale – it doesn't look like  it.  Just take a look at the latest Pottery Barn catalog for proof of that!  And don't even get me started on the latest phenomenon of owl merchandise. 
So in honor of the beloved bird accessory – I found eight options for you to get your bird on! 
For starters how about this kitchen set that features a graphic bird print.  Reminds me of woodblock prints!
5 pc Kitchen Set from Target – $19.99
How about a darling little bird to perch on your jewelry dish?  Leave your bracelets in the dish and your rings on the tail!
Bird Jewelry Dish from Pottery Barn – $19
Need a cute way to display more snapshots?  How about this "Bird on a Wire" photo holder.  This is seriously cute!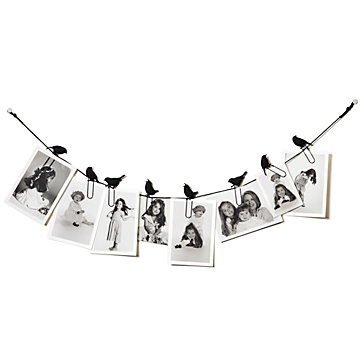 Bird on a Wire Photo Holder from ZGallerie – $12.95
These white bird frames have a rustic feel.  Love the distressed look.
White Ave Bird Frames from World Market – $12.99 – 14.99
Take your bird a little more tropical and grab a parrot pillow from Pottery Barn.
Pineapple Bird Pillow Cover from Pottery Barn – $29.00
This is probably one of the only ways birds would be welcome at your dinner party – on the napkin rings!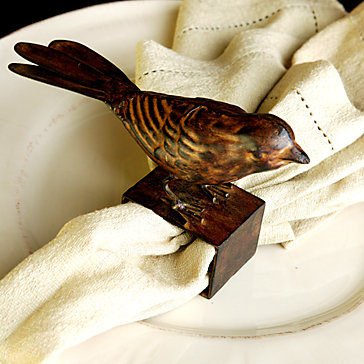 Bird Napkin Rings (set of 4) from ZGallerie – $19.80
Make a "bird" bath in your house!  (Sorry – that was a horrible pun, but I couldn't help myself!)   These birds are based on flower patterns found from old books.  Which actually sounds pretty cool.
Bird Collage Shower Curtain from West Elm – $39.00
And if you thought birds couldn't be put on anything else – how about on the top of these glass canisters? 
Glass Bird Canisters from Pottery Barn – $29 - 44
So there you go – eight fantastically featherful accessories.  Now I wanna know – do you love bird stuff?  Or are you over this trend?  Sound off!